The guides of the park
These are the Alpine and nature guides of the Natural Park of the Friulian Dolomites that accompany visitors during guided tours, hiking and outdoor activities. Expert in environmental education, they know how to involve, excite and educate children with specific learning programs proposed by the guided tours.
Naturalist guides
Giovanni Bertagno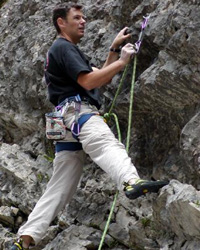 Tel. 3355269762
E-mail Guide_GB@libero.it
Website www.mountainsharing.com
I run the Camping Bresin in Cimolais (PN), a wonderful "base camp" in the heart of the Natural Park of the Friulian Dolomites today UNESCO Heritage. A long time since I do the hiking guide, patent released me from the Region F.V.G. recognized nationally by G.A.E. For some years now I am national Nordic Walking Instructor ANWI -INWA and in addition to exercise as an instructor I also realize parks and trails for Nordic walking such as the Nordic Life Park of Andreis.
I obtained the Patent as "Snow Expert" AINEVA 2A, experienced in snow and avalanches. Mountaineer for pleasure and expert on the Dolomites area, I am one of the Institution's historical guides of the Natural Park of the Friulian Dolomites. I am also founder and coordinator of numerous tourism initiatives for private or public institutions, great lover of nature, environment and exploration, I propose and I love to share with you the great spaces of the Dolomites.
Antonio Cossutta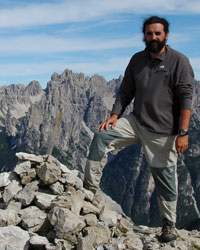 Tel. 3296872503
E-mail coopstaf@libero.it
Born in Montereale Valcellina (PN) on November 15th , 1964. He graduated in geology in 1997 at the University of Trieste and he has been a Naturalistic Guide of Friuli Venezia Giulia since 1999. Expert in the field of environmental education, animation and nature and cultural tourism (among others he attended the following courses: Wood Pedagogy, Environmental Education Centers operator, entertainer agenda 21, Environmental Commissions of Local authorities expert, Environmental and Rural Tourism entertainer, Green spaces designer).
He has been collaborating with the Natural Park of the Friulian Dolomites since 2000 (guided tours, educational activities in schools, Park presentations in schools and other institutions, training of operators of the Park Visitors Centers). Since 2005, also he has been dealt with the coordination and organization of the Friulian Dolomites Natural Park facilities, visitors centers and information materials on the territory of Valcellina, Colvera Valley and Val Meduna.
Franco Polo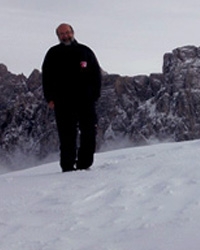 Tel. 3348149598
E-mail francaefranco2009@libero.it
Website www.mountainsharing.com
My name is Franco Polo and I am an environmental nature and hiking guide, even though I was born on the sea, in Monfalcone, on March 14th , 1962, I soon discovered the mountain and started to attend the mountainous areas of the region, discovering the charm of exciting landscapes that change rapidly at every corner of the path. Since 2002 I have lived in Claut in Valcellina, with my wife Franca and my cat Mina, surrounded by a wild nature to discover, learn and preserve. I worked as an operator with the Natural Park of the Friulian Dolomites and now since 2009 I have been a guide of the Park. I organize excursions for those who want to discover and share the amazing nature and multifarious aspects of our region in every season, for groups and individuals, also in French and Slovenian languages. I am qualified to the pursuit of environmental and hiking guide in the whole Friuli Venezia Giulia Region (LR 2/2002) enrolled in the regional nature guides Council and member of the AIGAE (Association of Environmental and Excursion Guides); I am also National Nordic Walking instructor ANWI-INWA.
Laura Fagioli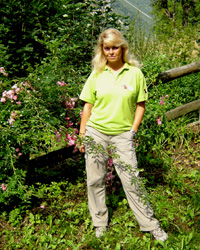 Tel. 3388100358
E-mail l.beans@libero.it
Degree in Biological Sciences in 1995 at the University of Padua, registered in the Biologists Council since 1999.  Nature guide of Friuli Venezia Giulia since 1999 and of Veneto since 2004, she is also a science teacher in high schools since 1999, tenured since 2005 . She is an expert in environmental education and experienced in the field of environmental analysis, naturalistic publishing and  setting and management of visitors centers and workshops. Aigae coordinator (Italian Association of Nature Guides hikers) and collaborator since 2000 of the Friulian Dolomites Natural Park as a guide and author of the book "The aromatic and medicinal plants of Forni di Sopra".
Marco Favalli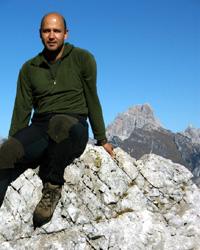 Tel. 3284218782
E-mail marcofavalli@marcofavalli.it
Website www.marcofavalli.it
Born in Kenya, on the 19th of April, 1969. In his home country he discovered the connection with nature and parks. Degree in Natural Sciences in Trieste. In 1992,  he got to know the mountains of the Natural Park of the Friulian Dolomites and started to follow, according to his degree thesis, the small colony of ibex reintroduced between 1985-87. Living in these valleys and the paths of the ibex , his African memories resurfaced and strengthened its commitment towards nature. Currently he works as a freelancer following research projects in the two regional parks, he produces nature movies and thanks to the work as nature guide he can convey the experience gained by living every day in contact with nature. He speaks fluently: English, French, German and Swahili.
Paolo Pellarini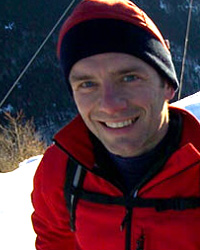 Tel. 3405447991
E-mail paolo@pellarini.it
Website www.pellarini.it
Degree in Natural Sciences, Naturalistic Guide and Mountain Bike Instructor. He lives in Forni di Sopra in Carnia where, in addition to collaborating with the Natural Park of the Friulian Dolomites, he  organizes activities and stays for schools and organized groups with the Tourist Services Consortium of Forni di Sopra.
Nicola Carbone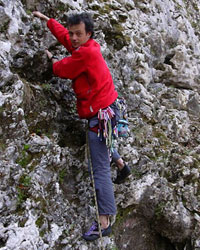 Tel. 3478448909
E-mail cjarvon@gmail.com
Website www.trekandbikefriul.com
Forestry doctor – nature guide – mountain biking and Nordic walking instructor. He organizes hiking, biking or Nordic walking activities for one or more days.
Fabiano Bruna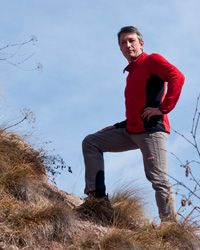 Tel. 3356191200
E-mail fabianobruna68@gmail.com
Born in Maniago, on the 10th of June, 1968, he graduated as an Agricultural Expert in Spilimbergo in 1987, since 1990 registered in the National Register of Land Surveyors, is a nature guide of Friuli Venezia Giulia since 1989 and he collaborates with the Natural Park of the Friulian Dolomites and other institutions. He offers guided tours, walks and hikes in the Natural Park of the Friulian Dolomites and in the Carnic Pre-Alps area,  together with educational and nature activities. He organizes photography workshops and photographic excursions with themes related to the flora, fauna and landscapes, as well as themed walks in the valley, in the Cellina places. His love for nature and for the mountains was inherited  from his father who, as a child, followed in tours throughout the Alpine region. "When the mountain, with its landscapes, fauna and flora, enters in you, the spirit does not leave you any more, my desire to walk, explore and spend magical moments in nature is always present. For me, photography is a powerful tool that helps us to capture the natural beauty and the magic moments of life, leaving a lasting impression. "
Giuliano Filippin
Tel. 3392183701
Born in Erto, one of the Park villages infamous for the disaster of Vajont. He started his activity many years ago just illustrating this story to groups and schools. However, he also liked other views and areas of the park that give him the urge and desire to continue this activity. He graduated at the School of Oenology in Conegliano. Now he lives in Montereale with his wife, two daughters, the dog Arturo, Roxi the cat and his small farm.
Daniele Marini
Tel. 3285675594
E-mail danieleud2003@yahoo.it
Alpine Guides
Francesco Fazzi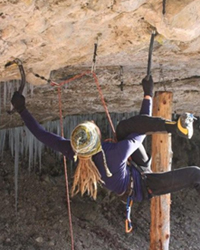 Tel. 3282170815
E-mail francesco.fazzi@yahoo.it
Website www.guidealpinevaldizoldo.it
A native of Belluno, he has been living in the Zoldo Valley for several years and he is alpine guide since 2004. His work ranges from courses of all kind, following children and adults, beginners and experienced people. In winter, from skiing to ice climbing and modern mixed with snow shoes, in summer from climbing  to canyoning. He has a passion for high altitude mountaineering and he frequently travels in the western Alps or abroad. He loves sport climbing and dry tooling, but also classic climbs.
Fabio Battistutta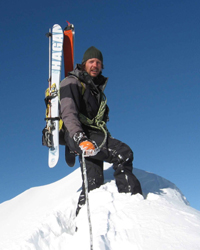 Tel. 3483157433 – 3381056977
E-mail ertoguide@hotmail.it
Website www.guidalpina.net
I was born in the province of Venice in 1975 where I lived until 2008. At the age of 5 years the first couple of plastic ski and the first experiences on summer paths. As a boy I discover in jest climbing with my parents, with whom I have been climbing for several years. At 27, I take the skis, abandoned for a few years because I was too much involved in my "fever for rock walls" and I continued to practice all mountain activities: ski in and out of the tracks, ski touring, ice climbing, mountain climbing and walks. A few years ago I participated in the selection for Mountain Guide, and so I began a period of books, climbing, back-country skiing, ice waterfalls, mountains, mountains, and mountains again. Today I put at your disposal my experience as a Mountain Guide, but above all I hope to convey to you my great passion for this beautiful vertical world.
Daniele Geremia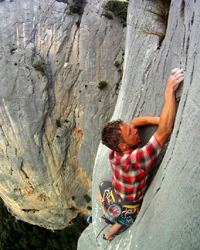 Tel. 3403788018
E-mail daniele.geremia@gmail.com
Web www.mountainfree.net
Alpine Guide and Master of Alpinism since 2007, in 2006 I graduated in Science and Forestry. I accompany individuals as well as groups mainly in the Dolomites areas, in both winter and summer, from alpine skiing and ice climbing in winter, to climbing and canyoning during summer. I'm passionate about travels and adventures to explore the world form the inside out.
Guide Alpine FVG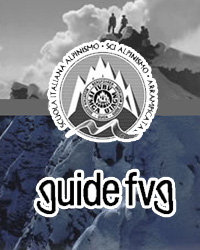 E-mail guide.fvg@libero.it
Sito-Web www.guidealpinefvg.it
Mid-mountain guides
Lucia Montefiori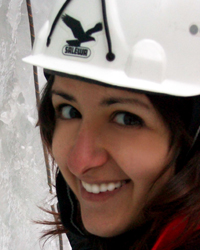 Telefono: +39 338 1056977
E-mail: coffeecoffeecoffee@hotmail.it
Web: www.gotothemountains.it
Pec: lucia.montefiori@pec.it
English, Español
My love affair with mountains, especially with the Dolomites, began unexpectedly in the flatland of Romagna, from a family deeply in love with mountains.
I spent all my childhood holidays in the Dolomites, which are somehow my roots as much as the Tuscan-Emilian Apennines, places of my fondest childhood memories.
After I've graduated from a commerce high school, I completely changed the course of study and decided to enroll in Anthropological Science degree at the University of Bologna.
The subject of my final dissertation, Anthropology of Landscape and disaster, brought me back to the Dolomites, in fact I carried out my fieldwork in Erto, where I decided to move and spent my following 6 years.
In the meantime, I enrolled in a master degree in Cultural Anthropology, Ethnology and Ethnoliguistic at the University Ca'Foscari in Venice, choosing to carry out the thesis on mountaineering. Anthropology of Landscape and Risk remained the area of study, but I carried out the field research in the most astonishing climbing sites in Europe and not just … such as Mont Blanc, Arco near Trento, "Ogre Valley", Siurana, Montserrat, l'Elbsandsteingebirge, Céüse, Osp, Todgha Gorges in Morocco, and others.
After completing my University Studies, I finally decided to turn my passion into a career; I took part in the selection process for the course organized by the Council of Alpine Guide of Veneto and following a year of intense study and trekking, I became a Mid-Mountain Guide.
I escort in trekking excursions anyone eager to explore this amazing "vertical world".