Cellina gorge stream
SIC Management Plan

WHAT IS A MANAGEMENT PLAN
The Habitats Directive in Art. 6 paragraph 1 defines that for Special Protection Areas and for Special Areas of Conservation the member states and therefore also the regions set out the measures for the conservation of habitats, threatened species or all those whose protection is considered a priority objective, through appropriate management plans.
Friuli Venezia Giulia, as other Italian regions, identified the Management Plans as the appropriate instrument for the management of Sites of Community Importance.
The Management Plan is a document that aims to define the territory activities, proposing active management interventions in the places of importance and establishing targeted rules for the protection of the most valuable elements.
A fundamental and necessary aspect for the realization of Management Plans is the involvement of the local population in order to define shared rules.
STRUCTURE OF THE MANAGEMENT PLAN
The management plan includes:
A period of general study of the territory, with reference to the value of natural and cultural elements, the programming and planning aspects, as well as the social-economic characteristics of the area.
A period of general assessment and identification of threats to habitats and species present in the area.
The identification of objectives, strategies and priority interventions for active management, as well as for the development of the area.
The indications for monitoring and evaluation of its implementation.
The managerial indications to identify an institution in charge of managing the site.
THE PARTICIPATORY PROCESS
The Friulian Dolomites Natural Park, managing institution for the realization of the Management Plan, launched in November 2009 a participatory process involving associations, local governments and the productive activities of the municipalities of Andreis, Barcis and Montereale Valcellina.
There will be several moments of discussion: forums and interviews with local administrators, thematic tables with stakeholders (hunting and fishing, tourism, wood industry, agriculture) and it will also be given a questionnaire to a representative sample of the population.
The meetings will aim to collect proposals and observations necessary for the implementation of a Management Plan as close as possible to the needs of the area included in the Site of Community Importance IT 3310004 "Cellina Gorge Stream".
In addition to meetings people can send their email comments and requests to:
direzione@parcodolomitifriulane.it
eugenio.granziera@parcodolomitifriulane.it
ufficiotecnico@parcodolomitifriulane.it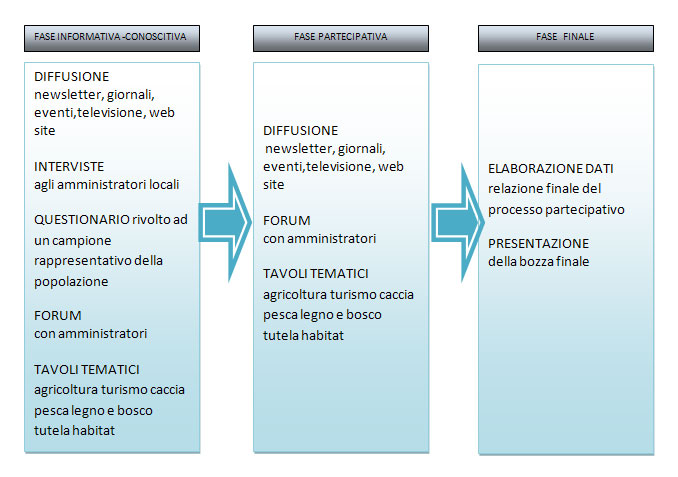 THE STAFF OF THE PARTICIPATIVE COURSE
Dr. Elena Maiulini
Dr. Luisa Capitan