Quality Brand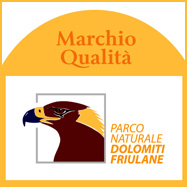 What is the " Park Quality Brand"
The Park Quality Brand is an identification project, started with ISO 14001 certification obtained in 2009 and the EMAS registration in 2012, to spread the philosophy of environmental quality, involving the economic and social fabric. The project rewards companies which meet environmental protection requirements, create a connection with the territory and adhere to the Park's culture, allowing the use of the Park logo.
The Park has set up and made available its own brand in order to:
improve standards of environmental sustainability and exploitation of land resources
give greater visibility to production through a uniform communication
give guarantees to consumers and users of the services facilitating the access of controlled quality of origin with low environmental impact
This action in addition to promoting the activities in the area aims to encourage the growth of tourism and a sustainable development philosophy in line with the goals of enhancing and protecting the territory. All this is part of a larger pattern in which the territory in general tends towards an improvement in quality in order to offer an increasingly efficient service that adds value to the potentiality of the area.
How it works
Entities applying should demonstrate that they meet a number of mandatory and optional criteria related to environmental, management and communication aspects. The criteria are verified by Park auditors. The verifier has the duty to assess the effective implementation and compliance with the requirements, fill out a checklist and audit report, these are then subjected to the "Guarantee Committee", composed of Park representatives and operators in the area.
Which advantages the "Park Quality Brand" offers
The products or services that can boast of the Park brand offer the consumer / user different types of benefits including a guarantee of quality. The farming-food products such as cheese, jams and honey, local handicrafts in wood and stone, up to the tourism and hotel accommodation services are guaranteed by a high level of origin and quality control of the service/product itself, through the application of specific procedures and rules to be followed by the operators. Moreover those using the Park brand will have to participate directly in the environmental protection of the area and this becomes undoubtedly an added value both for operators and for the territory.
To join you must follow the directions indicated in the user regulation downloadable online.
Regulations governing use:
Specific policy documents:
Application forms: